If you are a beginner guitar player and want to learn beginner country songs then you have come to the right place. I have 15 beginner country guitar songs that are fun and easy to play.
So if you want to learn 15 fun & easy to play songs take a look at this line up: 15 beginner country guitar songs.
Grandpa By
Tennessee Whiskey
Friends in Low Places
Waiting on You
Family Tradition
Country Roads
I believe in you
Cry Cry Cry
More of You
Blue Eyes Crying in the Rain
Wagon Wheel
Pocket Full of Gold
Your Still the One
Til' a Tear Becomes a Rose
Old Town Road
Well there you have 15 Country guitar songs for beginners. If any of them or all of them sound like something you would be interested in learning. Then Grab your guitar and lets get started!
---
1. The Judds-Grandpa is a Beautiful Beginner Country Guitar Songs
Here is a duo that there songs have stood the test of time. Both of there voices are impeccable. There songs are beautiful, but yet simple. There Country sound is distinct, and one that only a mother and daughter could pull off. That's right the song Grandpa was a hot country single. And there 6th number 1 single on the billboard Magazine. Source
If your ready to learn this great number one song of 1986, and still this day is a Great Easy Country song on guitar to learn. Click this link to learn How to Play Grandpa By The Judds.
---
Are You Ready?
Tryout this Beginner Guitar Mini Course
2. Chris Stapleton-Tennessee Whiskey
The name says it all Chris Stapleton a power house in Country Music today. What I really like about his songs. Well there are a lot of things that I like about his songs.
I like how they are simple two chord songs, and very much like ole' school country. Which to me Chris Stapleton has a singing, and guitar playing style reminiscing of Willie Nelson.
The song Tennessee Whiskey is another easy song on guitar. I mean easy there are just two chords. But the timing is a little different. But no worries! Take a look at this guitar lesson where all of that is covered. How to Play Tennessee Whiskey on Guitar.
---
3. Garth Brooks Friends in Low Places
I remember this song as if it were yesterday. The summer of 1990, one of the biggest hits not just of the summer, but of that year. Garth Brooks is a Legend and has many Accolades including this song Friends in Low Places.
What makes this song a great beginner song is that there are just 4 easy chords in the song. And a straight forward chord progression. Get ready to have fun with this song. The song is upbeat and fun to play. Click here for the Friends in Low Places Guitar Lesson.
Do You Struggle with Guitar? Learn the Fundamentals. Click the link to see what's included.
---
---
4. Lindsay Ell Waiting on You is a Beginner Country Guitar Songs
Lindsay Ell an up coming bright star. She's Known for contemporary Country and PopRock. And is a heck of a guitar player. It's always great to see woman who have made it in music playing the guitar. It is a rare sight.
All though Lindsay Ell is a Canadian Country singer. You can here a lot of blues and rock in her music. Lindsay's Debut Album was just released in 2017 and it has been all up hill from there. This song that made the Top 5, in the charts in Canada in 2017.
Even though the song only made it to number 42 in America, it is still on this list of easy country songs to play on the guitar. Take a look at the easy chords in the song. Here is the lesson how to play Waiting on You, By Lindsay Ell.
---
Related Article: The Top 5 Best Guitar Amps Review.
5. Hank Williams Jr.-Family Tradition
Talking about Iconic. Not only is the song Iconic, but so is Bocephus. And also another staple in Country music. It must run in the family. First there was Hank Williams in 1937. Then to Carry on the Family Tradition Hank Williams Junior.
Who almost had his life cut down short. When falling off a mountain; Ajax Peak in Montana. But lucky for Country music Hank made an amazing recovery. I guess you know you have made it big when you sing the opening song for Monday night football, and it's your song!
Are You Ready?
Tryout this Beginner Guitar Mini Course
"All My Rowdy Friends are Here on Monday Night." Different Lyrics same song, All my Rowdy Friends.
Hank Williams songs are a mix between Southern Rock and Country. His songs are always a blast to play. Take a look at this easy beginner guitar lesson Family Tradition. Which is part of the lesson on 11 easy songs on Guitar for beginners.
---
Shop our DIY Guitar Kits Now!
6. Is John Denver Country Roads a Beginner Country Guitar Songs
John Denver one of the great country singers of the 70's. Birth name Henry John Deutschendorf Jr. Source. Wow that would explain why they changed his name to "Denver".
John Denver was not only a singer. He was also a song writer and rerecorded over 300 songs. And out of 300 songs that were released he composed 200 of them. Country roads was one of them.
Some people know the song as Take me home Country Roads. Take a look at this guitar lesson on Country Roads.
---
Music Theory 101
Is going to open your eyes to a new way of playing your guitar. Although the theory has been around for years. You will never look at your guitar the same way again! See What's Included
---
Related Article: Top 5 Budget Electric Guitars.
7. Don Williams I believe in You is definitely a Beginner Country Guitar Song
If you want to learn a great beginner song on guitar. Then this is it. Easy chords, and so much fun to play. Don Williams is what I call a Classic Country singer. This song was off of the Don Williams Album "I beleive in You".
Although some people think the title of the song is I believe in Love. This song spend 12 weeks on the Country Charts, but only made it to number 24 on the top hits. Even so this song has earned it's way into the Anals of Country music.
And if you are ready to learn this song, take a look at this guitar lesson. A true beginner guitar lesson I Beleive in Love by Don Williams.
Keep Your Pride & Joy Safe!
With SKB Deluxe Thin Line Guitar Case This Hard Molded ABS case is a perfect fit for your guitar.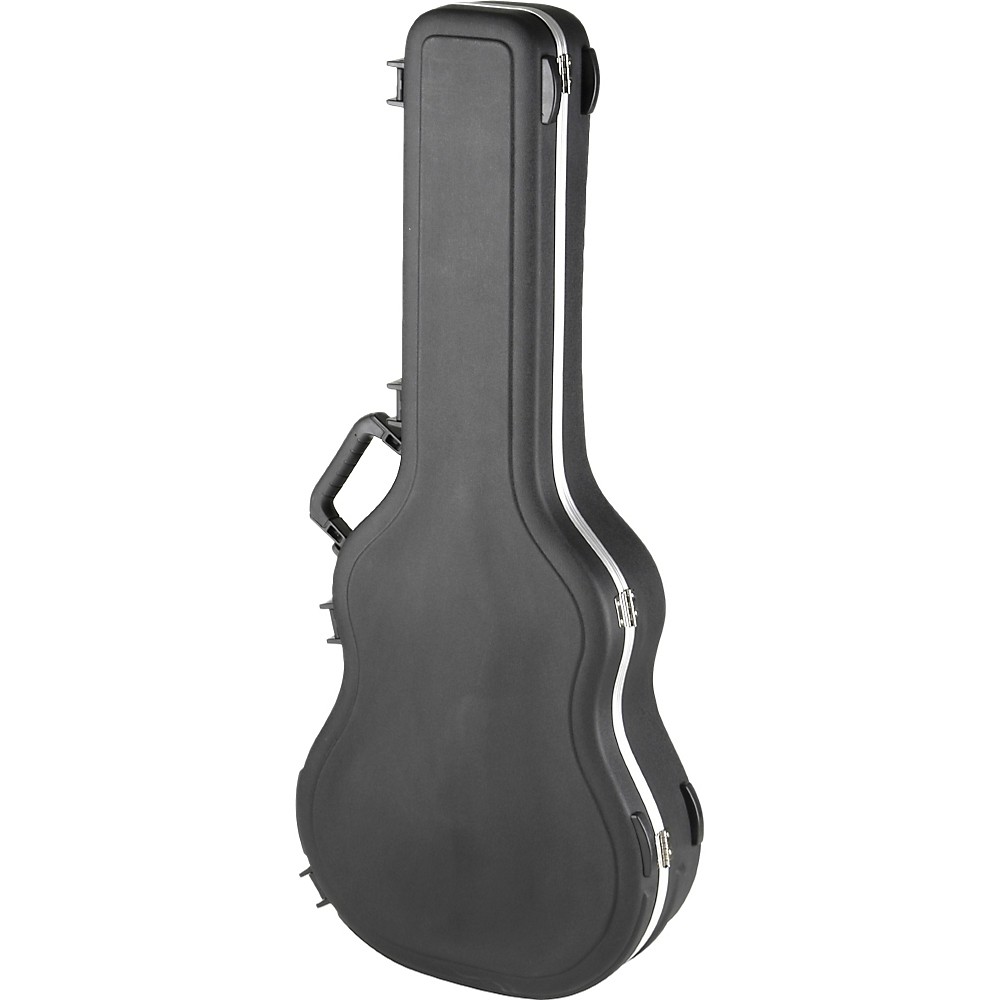 I found this SKB Case to be very affordable. It fits Acoustic, Electric, and even Classical guitars. Click for current pricing on Amazon.
---
8. Johnny Cash Cry Cry Cry
Nothing more needs to be said. The name says it all. Johnny Cash, one of the greats in Country music. This song was released first in 1955. Cry Cry Cry was written and sang by Johnny Cash.
I just love songs by Johnny Cash. For his unique sound. His songs can not be mistaken for anyone else's songs. Even down to the notes in the intro and Outro of the songs. Every last note makes playing the song a blast. Look at this guitar lesson Cry Cry Cry By Johnny Cash.
---
Related Article: How to play guitar like Johnny Cash.
9. Chris Stapleton More of You
Chris Stapleton songs are so easy and fun to play. He is on this list of easy beginner country songs. This time we are going to learn More of You.
Chris Stapleton moved to Nashville to pursue a career in music. Chris Stapleton is not only a great singer, but he has co-written over 170 songs. And has written 6 number one songs. But that's not all he is also a good guitar player.
This song more of you has basically 3 easy beginner chords. A lot of Chris Stapleton songs are easy for beginner guitar players. Take a look at how to play more of you on guitar.
---
10. Willie Nelson Blue Eyes Crying in the Rain
Willie Nelson a Classic Country Super Star. If you listen to Country music long enough you will hear remnants of Willie Nelson. His style of singing and songs are classic in deed. But did you know that Willie Nelson's Guitar playing is phenomenal?
This song blue eyes crying in the rain has some great acoustic guitar rhythm. Also a lot of notes or runs of notes that connect all the songs chords together. It is truly a masterpiece. Click this link to learn how to play Blue Eyes Crying in the Rain.
Maybe You have never heard of Stew Mac. They are one of the finest luthiers in the industry. Also Selling equipment for luthiers. I found this set of tools that can be used for everyday use. And found the Best price on Amazon. Click to see the current price on Amazon.
---
11. Darius Rucker Wagon Wheel is One of the Beginner Country Guitar Songs
Wagon Wheel is a good beginner song. Made Famous by Darius Rucker in 2013. When the song hit number one on the Country charts.
The easy beginner guitar chords in Wagon Wheel make this a good song to learn. So if your ready to learn Wagon Wheel look at this Guitar Lesson.
---
12. Vince Gill Pocket Full of Gold
Easy guitar song Pocket Full of Gold was a hit in ___ . Sung by Vince Gill and Paddy Love Lace. If you get the chance to listen to them sing it at the CMA Awards. It is Magical. Patty Lovelace Harmony is beautiful and perfect. Then of course Vince Gill has his own great set of pipes.
This song is mostly three chords. Played by strumming the chords. A lot of people may not realize that Vince Gill is a Great guitarist. They may think that his forte is singing. But take a listen to some of his YouTube video's back in his day.
This song doesn't capture those Vince Gill attributes. This song is at a slow tempo and just strumming. Making it a great beginner country guitar song. Click to learn how to play Pocket Full of Gold.
---
All Access Get your ticket to 40,000 + Lessons. 30,000 + Tabs, Notation and Instructors for all Genre's. Beginners, Intermediate and beyond. All access streaming anytime anywhere. All Access On Sale Now! See how much You can Save. A small window of time before the sale ends on All Access.
13. Shania Twain Your Still the One
Shania Twain the queen of country pop, is the best selling female artist in the history of Country music. Selling over 100 million records. One of her biggest hits is Your Still the One. This song was the first single released into pop radio. Written by Shania Twain and Mutt Lang. Click to learn how to play this Country guitar song Your Still the One.
---
14. Keith Whitley & Lorrie Motgan Til' a Tear Becomes a Rose
Prior to Keith Whitley's Death in 1989, Keith was at the top of the Country charts. His wife Lorrie Morgan did the duet with him; Til a Tear Becomes a Rose.
Keith Whitley only made two albums. Those albums produced 12 hit songs. Click this link to learn Til' a Tear Becomes a Rose.
---
Are You Ready?
Tryout this Beginner Guitar Mini Course
15. Lil Nas X Old Town Road
This is definitely an easy country song on guitar. Old Town Road is a simple song. That comes with a Big story.
Let me start with this song is racing it's way up in ranks. It seems as if this song is that of being the underdog. The story goes that Nashville would not promote the song. Due to the fact that Lil Nas X was not "Country Enough".
Then Billy Ray Cyrus got wind of this, and got involved. Billy Ray Cirus remixed the Song with Lil Nas X and did a video. Which helped set the song on fire.
Take a look at this easy beginner Country guitar song By Lil Nas X. Old Town Road. Click this link to learn Old Town Road.
---
Related Questions
Easy Guitar Songs
As a beginner guitar player you may know how to Tune Your Guitar or 10 things every guitar player needs to know. But finding easy guitar songs may be hard to find. That's why I wrote a lesson showing 11 easy guitar songs that you will be able to choose from.
They are not all Country songs, But they are easy songs for guitar. Click this link for 11 easy guitar songs.
---
Top Country Guitar Chords
After playing a lot of songs, that just happen to be Country songs. I have noticed a lot of the songs use the E B7 and the A chord. A lot of the songs technically are not using those chords as there is a capo on the first fret.
But the "feel" of the song is E B7 and A chords. Meaning; even though you have the capo on the first fret, you are still playing those 3 chords. Click the link If you want more information on What's the use of a guitar capo.
---
Best New Country Songs to Play on Guitar
Old Country songs is where its at in my book. Some of the Best new country songs to play on guitar are from Chris Stapleton. The chords are easy. The chord progression is easy and the lyrics are easy.
The tempo of his songs are fairly slow. Not to slow so its boring, but slow enough that it makes playing the rhythm fun and easy to play.
Two songs that come to mind are Tennessee Whiskey and More of You. If you want to learn those songs here are the links to the guitar lessons. Tennessee Whiskey and More of You.
---
Buy & Sell Music Gear Online | Reverb
---
How to Play Old Country Songs on Guitar?
A lot of the old country songs have what is referred to as alternate baseline picking. What that is, is just like it says. You alternate the baseline. So lets take a look at a Johnny Cash song Folsom Prison Blues.
The Capo is on the first fret. The chords that are being played are E B7 and A. We are not going to get into all the notes that connect these chords together. But to learn more about it take a look at the guitar lesson Folsom Prison Blues.
The baseline is the lowest notes in the chord. Lowest in pitch. So when you are playing the E Major chord. Your fingers are on the 3rd, 4th, and 5th strings. On the first and second frets. To alternate the base line.
You pick the 6th string, and strum the E chord. Then You Pick the 5th string and strum the E chord. So you are alternating the base notes.
Now when you Play the B7 you are going to alternate the baseline notes. You pick the A string. Which is the 5th string. Then strum that B7 chord. When you get ready to pick the 6th string. You place your second finger on the second fret of the 6th string. And strum the B7 chord. Then back to that A string, then strum the chord again.
The A chord is the next chord in the song. After placing your fingers in position to play the A Major chord. You pick the open 5th string. Then strum the A, and then pick the E string and strum the A.
So you can see how the baseline is alternating back and fourth. This is just one example of this, but there are hundreds of old country songs that do this.
Portable Practical Guitar Practice Tool.
---
What is the Best Guitar to Play Country Music?
You can play a lot of songs with an acoustic guitar. If you are a beginner guitar player and are looking for a guitar to play. Take a look at how much should I spend for my first guitar.
An acoustic guitar is the best guitar to play country music. There is just something about an acoustic guitar sound that makes country music. A dreadnought guitar will give you a big sound when you are strumming. This is what I would recommend. Here is a link to a beginner guitar that is a dreadnought, and at a bargain price. Click this link best beginner guitar review.